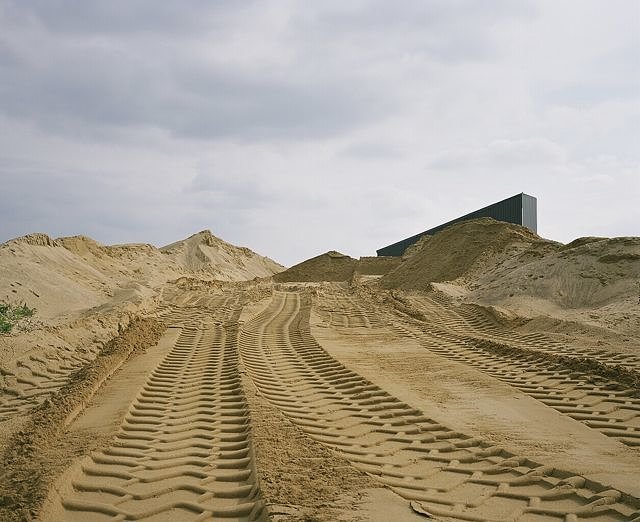 About
Tania Coates is a Fine Art photographer based in Powys, Mid Wales.
Tania Coates artistic practice is concerned with mankind's relationship to his surroundings. She specifically explores the physical and material transformation of the land around us.
Tania attempts to show the creative and destructive processes that are part of our engineering of the environment: physically creating new vistas resulting in the formation of new landscapes, and the obvious destruction or displacement taking place to reach these ends.
She aims to highlight the landscape in flux – moving towards the creation of more ephemeral scenes – presenting compositions that only exist in transition, while the new sites are being formed.
Her work is also an acknowledgment of the ideals of The Romantic Movement, in particular Edmund Burke's theory of the 'Sublime' and the 'Picturesque' in landscape. However, Tania pushes the theory towards a 21st century re-evaluation, to include our current transient topography.
Education
2004 – 2006 UNIVERSITY OF WESTMINSTER, LONDON
MA Photographic Studies
1998 – 2001 CENTRAL SAINT MARTINS, SCHOOL OF ART & DESIGN, LONDON
BA Hons Fine Art
1997 – 1998 JACOB KRAMER, LEEDS COLLEGE OF ART & DESIGN
Diploma in Foundation studies - Art & Design
Exhibitions:
2016 Y Lle Celf, National Eisteddfod of Wales, Abergavenny
2015 The Workhouse, Presteigne, Wales
2013 (Dec) Worcestershire Contemporary Art; W-CA, Landscape Photography Open.
2007 (Jul) Terrain Vague, Whitecross Gallery, London
2006 (Nov) FOTOBILD, Berlin, Germany
2006 (Sep) SCENES, Bargehouse gallery, Oxo Tower, London
2006 (May) SELECTED WORKS Watford Museum, UK (solo show)
2005 (Mar) PERFORMANCE Augustin Dufrasne Gallery, Brussels, Belgium
2004 (Sep) SUMMER HOLIDAYS, Islington Arts Factory, London
2004 (Oct) LEISURE TIME Adam Street Gallery, The Strand, London
2004 (Dec) JG GALLERY Whitstable, Kent (UK)
2004 (Nov) OPEN Augustin Dufrasne Gallery, Brussels, Belgium (solo show)
2004 (Oct) ESCAPE Wills Art Gallery, London 2004
2003 (Oct) AFFORDABLE ART FAIR London
2003 (Jul) FRESH ART Business Design Centre, London
2003 (Sep) Wolff Gallery, London
2003 (Dec) EYA, Birmingham 2003
2003 (Nov) MANCHESTER ART SHOW, Manchester (UK)
2003 (Apr) WHITEWALL GALLERY Leeds (UK)
2002 (Jul) FRESH ART Business Design Centre, London
2002 (Oct) ART IRELAND Dublin, Éire
2001 (Jun) FOREIGN BODIES London School of Hygiene & Tropical Medicine, London
2001 (May) EAST END COLLABORATIONS Queen Mary, University of London
2001 (Nov) EXPO Bonington Gallery, Nottingham (UK)
2000 (May) FOREIGN BODIES London School of Hygiene & Tropical Medicine, London
Publications & Awards
Fuji Film Award
Publications - Art, Antiques & Auctions (Paris 2004),
Portfolio Catalogue, issue 45 - http://www.portfoliocatalogue.com/45/index.php